Daily Screening and Check In
Daily surveys feature questions aligned with WHO and public health authority guidelines, as well as HIPAA compliancy – allowing employees to easily submit self-reported surveys and administration to enforce time-bound/mandatory self-reporting.
Ready for Use
System can handle millions of users (public) as well as organizations with multi-level hierarchical structure
Daily Self Screening
Ability to enforce periodic or daily mandatory, time-bound self-reporting with color-coded proof
Report Recent Contacts
Ability to determine if the employee has been in contact with or have had interactions with other employees
Resources for Users
Virus outbreak mapping, information such as locations to testing sites, food banks, etc.
Vaccine Management
With the vaccine rollout taking place across the country, it's critical for organizations to be able to identify and manage those who have or have not received the vaccine. The Covid19Tracker's Vaccine Management tool allows for user to securely upload their vaccine credentials and for administrators to verify, approve, and issue digital vaccine passports to their workforce. This technology offers a secure alternative to the current paper cards being issued.
Temperature Screening
A seamless process that captures self-screening, body temperature, and check-in records. Covid19Tracker™ is now available with integrated GoSafe, a motion-sensing touchless temperature scanner. GoSafe device sold sperately.
Guest screening capability
Document not only employees' self-reporting surveys but also those of guests who interact with any staff or the office space. Guest screening allows for a more comprehensive back to work strategy to expand knowledge around points of contact.
Case management system
Survey data is processed by our case management system, allowing your team to refocus energy back into your organization. The COVID19Tracker™ is integrated with Kokomo's Incident Management System (IMS) which can send out alerts, text-based notifications, and also has an A.I. engine to provide larger situational awareness based on employees' surveys.
Situational Awareness
Easy view of COP (Common Operating Picture)
Audit Trail
System automatically records any updates on cases on hand
Alert and Notification
Notifies appropriate personnel and users in real time
Reports and Export
Data can be visualized and exported to excel
Integrate to External System
Connect to external systems; e.g. ERP, CAD, Analytics, etc.
Multilingual survey options
COVID19Tracker™ is globalized at design. It can support and localize to any language such as but not limited to English, Spanish, French, Hungarian, Japanese, Chinese, and Korean. Web and mobile UI automatically detects the browser's and phone's regional setting and displays corresponding language automatically.
Contact Tracing
Proactively mitigate potential spread with the CONTACTJUXTAPOSER™ (contact tracing tool) that can easily conduct retroactive, manual, and location-based check-ins. The COVID19Tracker™ can be integrated with existing RFID and other badge check-in systems in order to trace potential outbreaks within the organization.
Contact Listing
Keeps track of granular information of locations over time.
Contact Identification
Patent-pending UI that helps identifying potential contacts and exposures.
Contact Follow-up
Complete task management system to ensure the follow-ups are performed and tracked
In-use by various workplaces as well as first responders
Instantly enabling any organization (employers, first responders, schools, and healthcare systems) and community to manage contact tracing.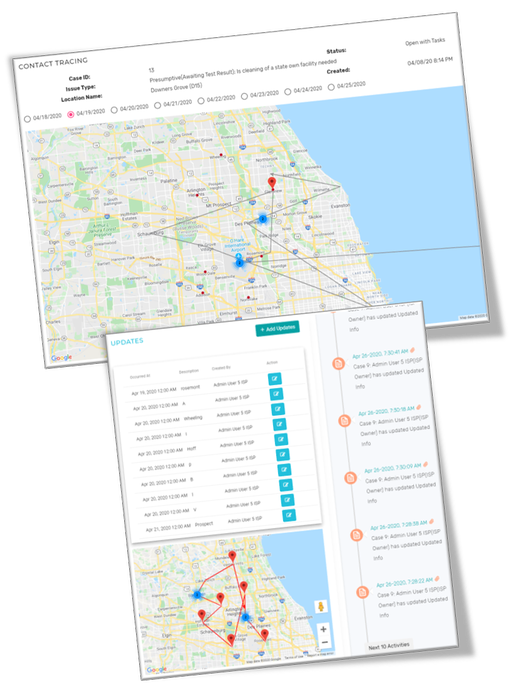 Customizable and flexible options
Not every organization requires each of the configurable options the COVID19Tracker™ offers. Customize your solution for your organization's needs with the Kokomo Solutions team's streamlined onboarding process.
Unlimited capacity for users
The COVID19Tracker™ utilizes Amazon Web Services (AWS) and is a serverless software, allowing your solution to be both scaled up or down as your capacity continues to evolve.
Hybrid Phase Mode
COVID19Tracker™ is available to be utilized in a hybrid (phase-in) approach. Start welcoming back employees in phases to maintain a safe environment.
Multiple Site Recognition
From a single to multiple locations across the country or globe, COVID19Tracker™ is ready to accommodate various users and local guidelines for a seamless user experience.
Comprehensive Safety Solution
COVID19Tracker™ is not just for COVID related incident management. It is also being used beyond COVID related incidences. It is currently used to manage compliance and emergencies.
Delegate Self Screening
In the event an employee does not have access to a smart device, a delegate can be assigned to that employee to submit the self-assessment on their behalf.